Some have called him the first "modern man." He was certainly the quintessential Renaissance man . . . lawyer, statesman, philosopher, linguist, raconteur, Chancellor of England . . . and author of one of the great books of western civilization, Utopia. Despite all that, Sir Thomas More was beheaded in by King Henry VIII in 1535 for high treason.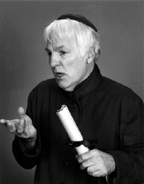 Maxims, Monarchy and Sir Thomas More shares the last, intensely intimate hour with More just before his execution. Still wrestling with the moral dilemmas that led him to the block, More cracks jokes, makes up songs, takes jabs at his tormentors, and eventually finds peace in his fate. An extraordinary one man tour de force featuring Graham Thatcher, Maxims, Monarchy and Sir Thomas More sparkles with wit, explores moral questions and provides keen insight into the universal human condition. The show explores the issues of ethical and moral decisions in legal practice and provides an engaging tool to facilitate classroom or conference discussion.
What Your Colleagues Are Saying . . .
"We are still basking in the afterglow of your magnificent performance. Your depiction of Thomas More was masterful . . . and the play engages a contemporary audience with timeless struggles."

Mark Croteau, Director of Programs, Saint Olaf Catholic Church, Minneapolis, MN

"I was truly impressed and moved by your performance of More. It is evident you did your homework and provided us with a new and fresh glimpse of the real man."

Fr. Peter B. Wilke, Pastor, Cathedral of Our Lady of Perpetual Help, Rapid City, SD

"Your production displays a rare balance between entertainment and enlightenment . . . presenting issues in a consummately professional and engaging manner. I hope your production is seen far and wide."

Ted L. McBride, Attorney at Law, Rapid City, SD

"The writing, acting and set were all highly professional. Graham has a commanding presence and is a gifted actor. Your production beautifully explores questions which are as timely today as they were some 400 years ago."

John E. Simonett, Associate Justice, Retired, Supreme Court of Minnesota

"Your production . . . was exceptional! Graham's portrayal . . . brought to life the incredible depth and spirit of of [Sir Thomas More] as he reflected on his life and his decision . . . "

Jeffrey B. Hare, President, St. Thomas More Society of Santa Clara, CA

"I commend you for the important work you are doing in developing innovative, effective programs for teaching Ethics and Professionalism. Timeless issues of what it means to be a lawyer and to practice as a professional are raised eloquently and provocatively . . . Thank you fro a job well done in giving Georgia lawyers and judges a deeply meaningful and instructive CLE experience."

Cliff Brashier, Executive Director, Georgia Commission on Continuing Lawyer Competency

"On behalf of the National Diocesan Attorneys Association, I want to thank you for sharing your incredible talent with us . . . Maxims, Monarchy and Sir Thomas More was both thought provoking and entertaining."

Mark E. Chopko, General Counsel, United States Catholic Conference



Maxims, Monarchy and Sir Thomas More has been approved for CLE credit (including Professionalism and Ethics credit) in several states. Performances and related study materials are available for law school and legal conference programs. We are happy to assist in filing a CLE application for your organization.



Clients Include:
Cathedral of Our Lady of Perpetual Help, Rapid City, SD
Chief Justice's Commission on Professionalism, Atlanta, GA
Institute of CLE of Georgia
Hamline University School of Law, St. Paul, MN
Mercer University School of Law, Macon, GA
New College of the University of St. Thomas, St. Paul, MN
Notre Dame Law School
Santa Clara University School of Law, Santa Clara, CA
St. Olaf Catholic Church, Minneapolis, MN
St. Thomas More Newman Center, Vermillion, SD
St. Thomas More Society of Santa Clara, CA
National Diocesan Attorneys Association of the US Catholic Conference
Xavier College Preparatory, Phoenix, AZ